This article came from paranormaldailynews.com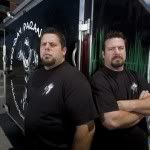 "Ghostlab began filming part of Season Two of the show Monday in Moundsville," reports Crissy Clutter for StateJournal.com. Among the residents in the city of Moundsville there is a long-standing tale: ghosts are being housed in the dark and dingy Moundsville Prison.
"The old prison has been shut down for several years, but many believe there are spirits still inside the old prison serving more than a life sentence," reports Clutter. "The former West Virginia Penitentiary in Moundsville is once again the scene of a network production."

"The show Ghostlab, aired on the Discovery Channel, is trying to prove paranormal activity," reports Clutter. "Ghostlab is based on two brothers, Barry and Brad…and their investigation team whose stated mission is to 'visit the most haunted places in America, find evidence, and test new theories to probe the existence of the afterlife.'"

"Brad Klinge, with Everyday Paranormal, said he's experienced everything from sights and sounds to apparitions and his group has recorded voices, as well," reports Clutter. "Brad Klinge founded everyday paranormal in 2007, but was interested in the after-life since he was a teenager and had a paranormal experience in Gettysburg, Pennsylvania."

"The group was drawn to Moundsville because of it's past," reports Clutter.

"We came here because of the history.. it has a steep history dating back to the Civil War. We're here to hunt ghosts," said Barry Klinge.